monument cafe
proudly serving hometown favorates since 1995
Proudly Serving Georgetown, TX Since 1995!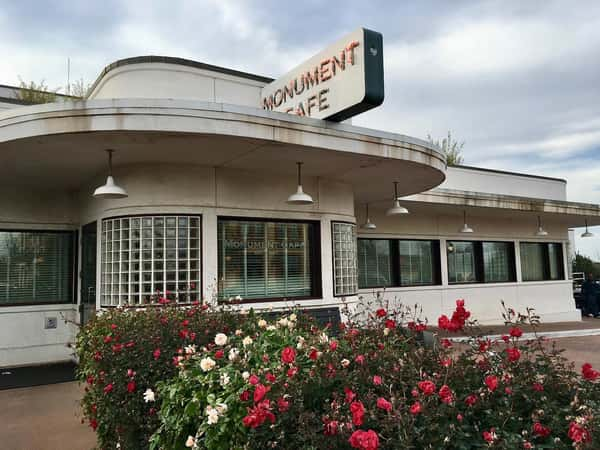 Hey Y'all! Welcome!
We're a traditional Texas roadside café using local, seasonal, and organic ingredients. We don't need any fillers or additives. The flavor is in the quality of the ingredients. All our food is prepared fresh from scratch with care. Local, seasonal products are sourced whenever possible. Grandma would approve.
Visit Us
Downtown Georgetown
500 South Austin Ave
Georgetown, TX 78626

Hours
Monday - Sunday:
7:00 am - 3:00 pm
Christmas Eve:
7:00 am - 2:00 pm
Share Your Experience!
Leave a Review
"I tried the meatloaf with brown gravy and it was so good I could have eaten the whole pan. Don't tell my mom but way better than hers. The only disappointment was when I was done eating. I wanted it to go on forever."
"Love this! I order this hash as a vegetarian dish without corned beef - and it is amazing!"
"My husband and I have come here 3 times in the last week, their food and wait staff is amazing! He likes the Irish oatmeal and the eggs and meat breakfast."
"The absolute best pancakes in central Texas! I've been going to monument since it was off of South Austin Avenue and it has continued to be the best, even from there. The best home-cooking food you will find by far!"
"Absolutely delicious classic pancake, super fluffy and way more flavorful than your standard buttermilk pancake. A huge hit in our family, especially with the berries added!"
"I tried the meatloaf with brown gravy and it was so good I could have eaten the whole pan. Don't tell my mom but way better than hers. The only disappointment was when I was done eating. I wanted it to go on forever."
"Love this! I order this hash as a vegetarian dish without corned beef - and it is amazing!"
"My husband and I have come here 3 times in the last week, their food and wait staff is amazing! He likes the Irish oatmeal and the eggs and meat breakfast."
"The absolute best pancakes in central Texas! I've been going to monument since it was off of South Austin Avenue and it has continued to be the best, even from there. The best home-cooking food you will find by far!"
"Absolutely delicious classic pancake, super fluffy and way more flavorful than your standard buttermilk pancake. A huge hit in our family, especially with the berries added!"